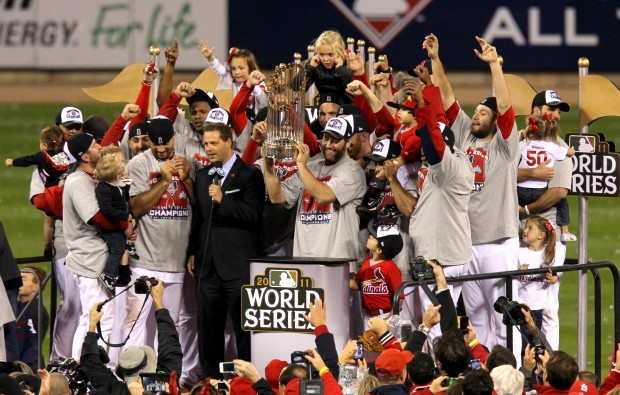 I AM A St. Louis Cardinals fan, even here in Germany - in a land where people care about baseball as much as Iowans do the German Premier League. That doesn't stop me from wearing it on my shirt sleeve in the office, and my coworkers humor me by occasionally asking how they're doing.
So when the Cardinals went down 3 games to 2 in the 2011 World Series a colleague stopped me and asked me if I was disappointed game 6 was rained out, I explained that it actually might work to the Cardinals advantage because it gives them a day to shake off game 5 and could mean that ace Chris Carpenter would take the mound in an eventual game seven - so the deluge might turn out to be a blessing.
"Ah", he replied. "Fritz Walter Wetter."
What?
Allow me to introduce you to a piece of German sports lore.
Fritz Walter was born in 1920 in Kaiserslautern. A soccer prodigy, he made his first appearance with FC Kaiserslautern in 1937, advancing rapidly to the German National team in 1940. War interrupted his booming career until he returned again to play for his home team in 1945.
Fritz Walter holding the trophy as he is carried off the field in 1954.
The legend, however, was born in 1954 at the Miracle of Berne. That year the German National team was admitted to the Word Cup for the first time since the war. The highly under-rated team lead by Captain Fritz Walter dispatched superior Turkish, Yugoslavian and eventually Austrian to work their way into a improbable final match against mighty Hungary. July 4th, 1954 looked to be a rainy summer day. Prior to the game Walter's chief and friend remarked to him, "Fritz, your weather." To which Walter famously replied, "Chef, Ich hab' nichts dagegen (Boss, I have nothing against it.)"
Rain poured down on the field while Fritz Walter's Eleven chipped away at an early 2-0 deficit. Masses of Germans, huddled around their radios or in local pubs, finally heard the call from announcer Herbert Zimmerman of "Tor! Tor! Tor!" when the German national team scored a 3rd and decisive goal in the 84th minute. Six minutes later, Germany held the title of World Champion. In historic retrospect, it was perhaps one of those games that was more than just a sporting event, it was a spark of pride returning to a humbled nation after a long and gray period.
Whether the advantage could be attributed to the malaria Walter contracted in WWII - who, as the legend says, was never again comfortable playing in the sun - or whether he simply honed his skills playing in the inclement weather at the Betzenberg in Kaiserslautern, or whether it was the innovative screwed-in cleats introduced by the Fritz Walter Eleven in 1954 remains a debate. But now, when game day arrives in Kaiserslautern and rain clouds rolls in above Fritz Walter Stadium like a good luck charm, a father might turn to his son with a wink and say "Here it comes finally. Fritz Walter weather."
So congratulations to the St Louis Cardinals - perhaps aided by a windfall in the spirit of Fritz Walter himself - who made an improbable comeback to capture their 11th World Series title.
Over here in the office, maybe we'll just call it the Fritz Walter Eleventh.